Concord General Contracting Continues Expansion of Vertical Markets, Depth of its Portfolio as it Embarks on the Next 50 Years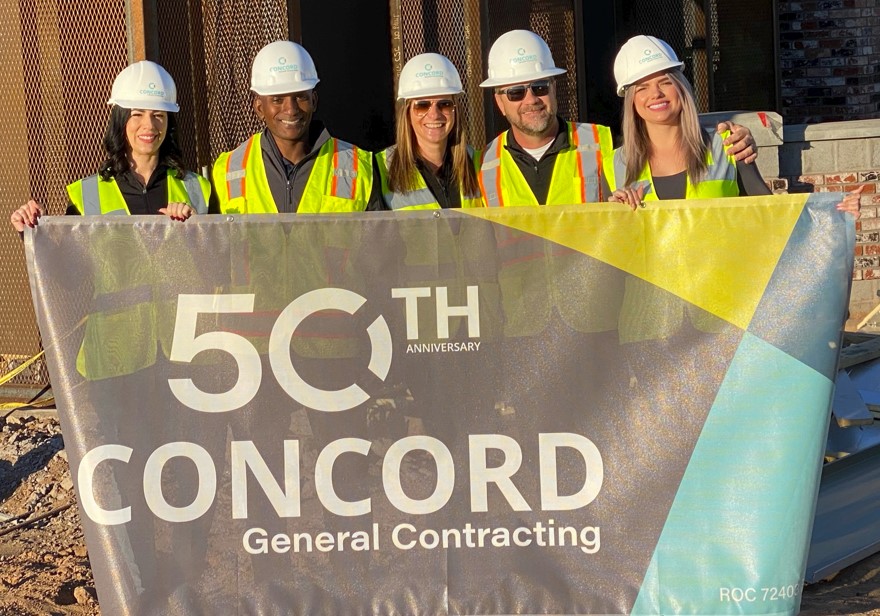 by Peter Madrid | Apr 7, 2022
With 50 years of diverse and iconic projects in the books, Concord General Contracting is focusing on expanding the depth of its portfolio with multi-market growth as it looks to the future.
CEO Grenee Martacho said the vision for the company is to expand the depth of its portfolio and continue to grow in a strategic manner.
"We have built many great relationships over the years and embrace the repeat business with long-standing clients," Martacho said. "As we evaluate our growth, we want to do so strategically. We are also setting our sights on reaching $100 million in annual revenue."
Since Jim and Gary Jackson founded Concord in 1972, the company has been employee-driven and is proud to offer the "ultimate client experience." In 1992 it expanded with a Tucson office and in 2020 became employee-owned (ESOP).
Jim and Gary Jackson named the company Concord, which means "unity." Today, a big part of its company culture is collaboration.
"The people that make up our culture is what truly defines us," said Concord President JV Nyman. "Maintaining a balance of work and play is important to the leadership and philosophy of Concord. At Concord there is no such thing as that's not my job, it takes all of us working together to succeed."
Iconic Concord projects include:
The 1891 Pinal County Courthouse restoration in Florence, Arizona;
The San Luis 1 Land Port of Entry north annex building in Nogales, Arizona;
Westwood High School new classroom and campus renovations in Mesa, Arizona;
Mountain Park Health Center, Tempe Clinic;
Tucson Convention Center renovations;
Peoria Subaru auto dealership in Peoria, Arizona.
Former Concord CEO Dale Marr celebrated 40 years in the construction industry in 2021, 28 of those helping guide the growth of Concord General Contacting, Inc. Marr, who officially retired in 2021, has also been instrumental in building the foundation for the new leadership team.
The transition began in 2020 when Marr handed the CEO reins to Martacho and named third-generation leaders including Beaver and President JV Nyman. "As the second generation of leaders, we grew the firm to where it is today," Marr said. "Grenee, Jason, and JV will take it to the next level.
With the amount of growth that Arizona and the Southwest are experiencing, Martacho said Concord is well-positioned for the next 50 years. Concord is actively involved in programs to address workforce issues and educate youth as well as educators about the high-demand jobs in the construction industry.
"In 2011 we sat down as a leadership team and defined what we truly do when we build a building," Martacho said. "We quickly realized we become a part of the end-user's culture during a project. From there we began going into classrooms and teaching students about construction. It's now become an industry standard for contractors."
With current supply chain issues, Concord leverages its 50 years of experience to assist clients in proactively navigating those challenges and providing value.